SWANK
First announced in late February 2022, with the guiding philosophy of the phrase "WHO CARES?", SWANK is a fashion line run and designed by Anne Faulkner.
SWANK is a unisex fashion brand based on the concept of "WHO CARES?" and expressed by Anne Faulkner themself, free from stereotypes. The brand expresses the hope that everyone will express themselves as they are, valuing their own individuality rather than worrying about what others think of them.
In reality, SWANK is -- in fact -- a line of real-life streetwear fashion. It focuses on a modern unisex style, and has had -- at time of writing -- three major release lines. Each of these has been accompanied by campaigns and special artwork by illustrator Suzuki Kana, featuring different characters as models for the fashion line. Much of the line features the words "WHO CARES?", in English, posited as Anne's guiding philosophy, and uses a lot of iconography featuring a cigarette-smoking swan.
SWANK has proven very popular among the fanbase and the cast and crew, with many people delighting in taking note of how many of the seiyuu, staff, and stageplay actors turn up to events wearing SWANK items, and is relatively notable for being a relatively unique approach to otaku merchandise.
It is available for purchase through the Gcrest store, which has native Buyee integration for overseas buyers!
First Run
The first line of SWANK merchandise consisted of a bucket hat, two colorways of a logo T-shirt, and two colorways of a track set. The accompanying art for this set featured Ryu, Nayuta, and Reo as models, referencing the Lollipop*universe drama track (which focused on the four characters as being the most fashion-minded of their respective units).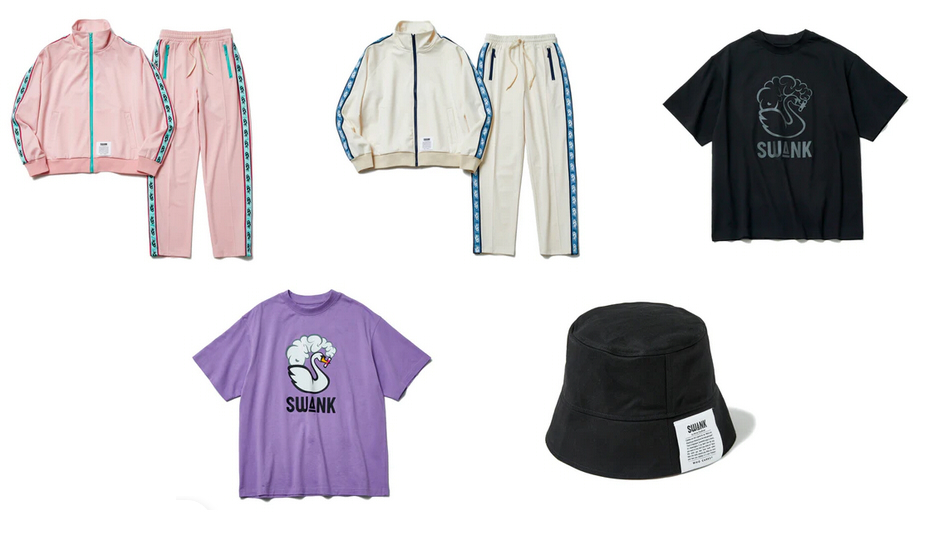 Forgive the slight jank, I couldn't find an official item listing like there were for the two later lines.
A/W 2022
The second line of SWANK merchandise, the Autumn/Winter line for 2022, consisted of a varsity jacket, a logo sweatshirt, a half-zip sweatshirt, a heart tag necklace, and two colorways of socks. The promotional materials for this line featured Anne alongside Aoi, Hajun, and Toma. A faux magazine intervew was posted between the duos Anne and Aoi, and Hajun and Toma; check Other Translations!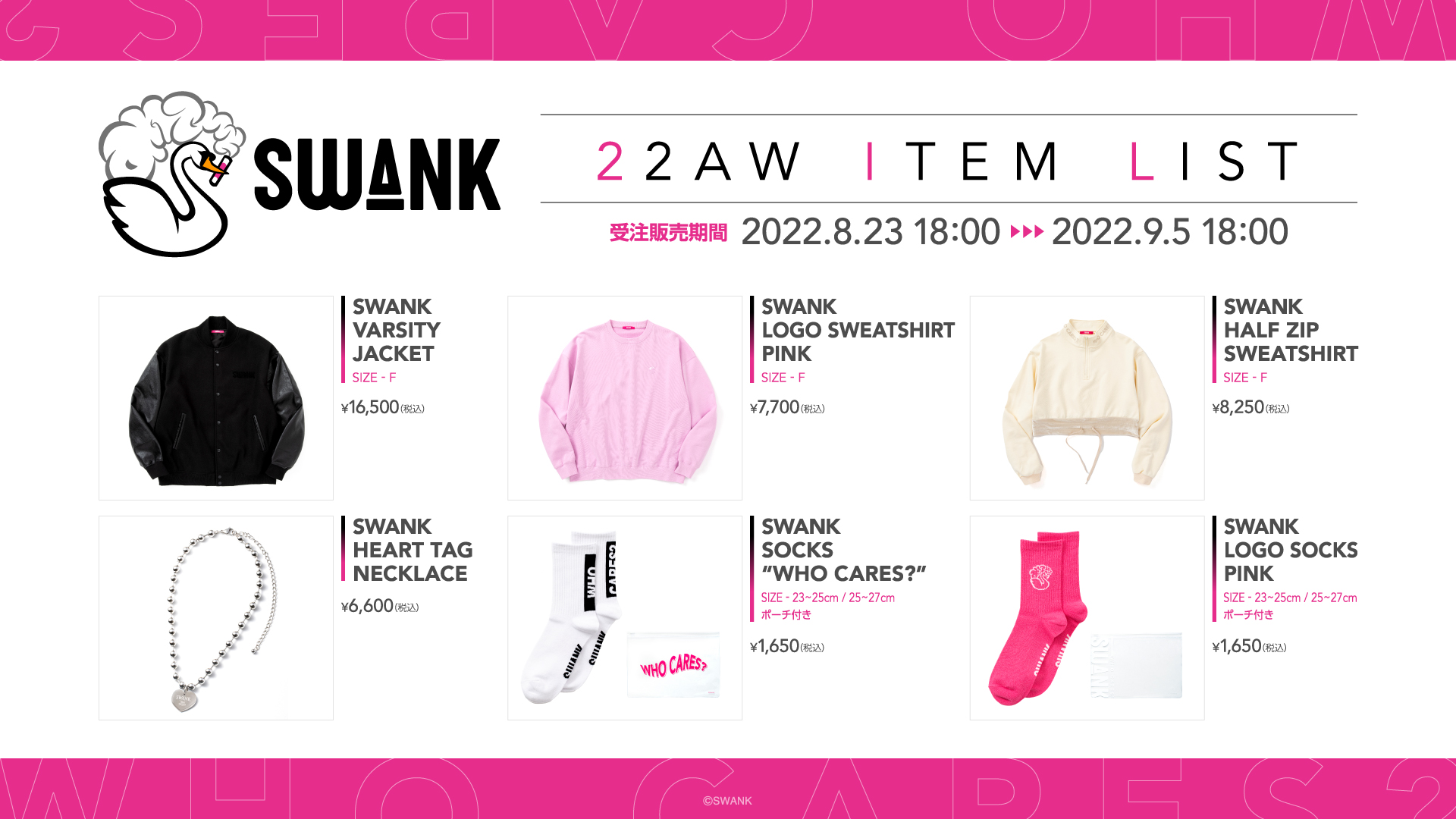 A/W 2023
The second line of SWANK merchandise, the Autumn/Winter line for 2023, focused on a school campus style, and featured drawstring denim pants, a distressed cardigan, two colorways of hoodie, two colorways of a cropped sweater, a cropped track jacket, detachable track pants, a cap, and a scarf. The theme for this line was "ANTI-BIAS". The promotional materials for this line featured Anne alongside Allen, Reo, Satsuki, and Hokusai.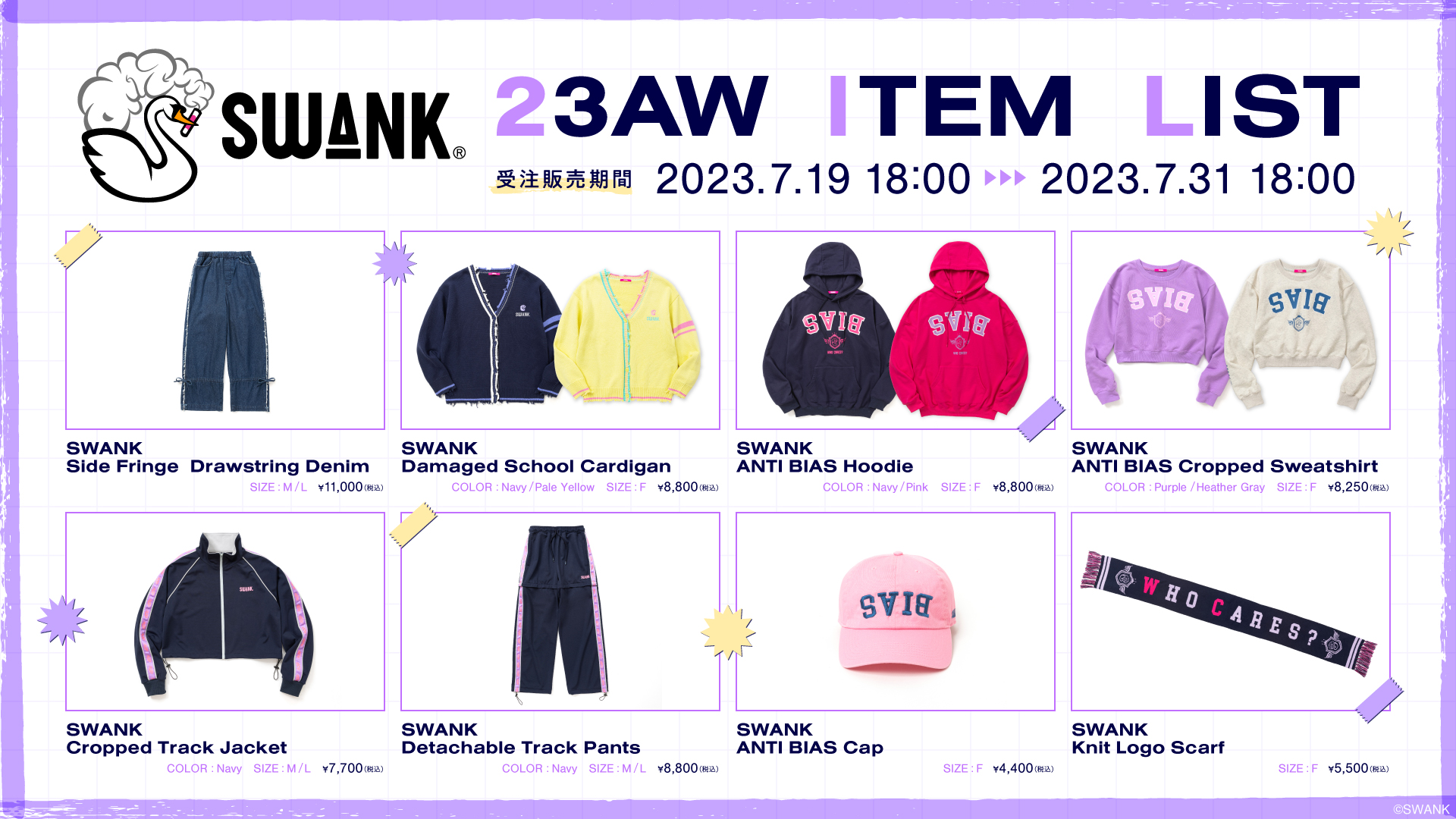 SWANK Home

First announced as part of a pop-up shop for the franchise's 4th anniversary with online sales at a later date, SWANK Home is a line of general goods (various sundries and home goods) bearing the SWANK aesthetic and iconography. The tagline for the first wave appears to be "STAY WAVY", and the line features two rugs (one with "STAY WAVY" and one with the SWANK Swan logo), and a cushion, tumbler cup, and coaster all featuring "STAY WAVY".